Posted on February 11 2023
At the inception of ALLY Shoes, we set out to address the biggest source of discomfort in women's footwear: heels. Our first creation was the Little Black Heel, a pump designed to be comfortable enough to wear all day. Since then, we've expanded our collection to include a range of colors and styles, including the bold block heel, kitten heel, and lower block heel.
As we continued to grow, we noticed a significant gap not just in heels, but for women's dress shoes overall that provide both style and comfort. As a result, we launched our Forever Flats collection, which was well received for its arch support and various toe box width options.
In response to popular demand, we also set out to create the perfect Little Black Boot, incorporating the same level of comfort and style as our Little Black Heel.
Join us for a behind-the-scenes look at how we crafted the Little Black Boot.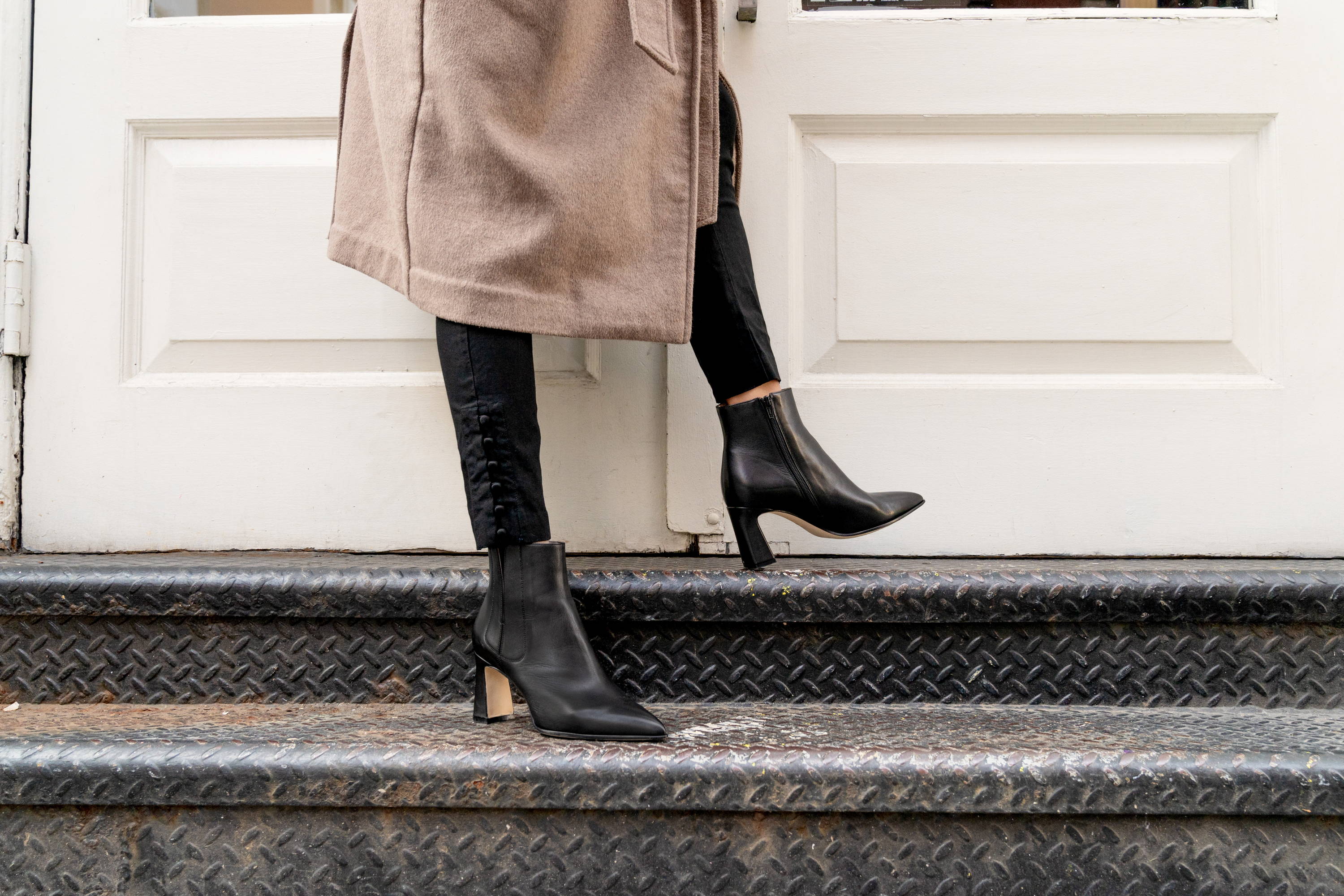 Bold Block Heel Style
Ever since launching, our bold block heel has quickly become a fan favorite, so it was a natural choice for our first Little Black Boot style. The sleek 3-inch block heel is perfect for outdoor walking and provides both style and comfort. The slightly slanted block heel design is sure to draw compliments, and the pointed toe adds a touch of elegance. We're eager to expand our boot collection and would love to hear your suggestions. Feel free to email us at hello@ally.nyc with any ideas for future styles.
Crafted with Comfort in Mind
These beautiful boots are designed for maximum comfort, making them the perfect choice for all-day wear.
Our patented, ergonomic internal support structure combines the best of podiatry and sneaker design, providing all-day comfort by redistributing weight in the heel. Our signature 3-point-support insole, with toe, arch, and heel support, ensures a balanced and comfortable fit.

Furthermore, we've included a discreet ankle stretch and an interior zipper to ensure ease of use while maintaining the boot's shape.
Inclusive Size Offerings
At ALLY, we believe in providing footwear that fits everyone, which is why we offer micro-sizing from US 4.5-12 in half sizes and multiple toe box widths. Our goal is to provide a custom-fitted feel while maintaining affordability. To ensure consistency in fit, we've made multiple adjustments to our boots, taking into account the use of thin socks. As a general rule, if you wear a narrow (A) fit in our heels, we recommend a medium (B) fit in our boots. If you're in-between sizes, we recommend sizing up.
Durable Design
We are proud to introduce our first outdoor-oriented shoe. As a female-led team, we understand the importance of both durability and style in our leather boots. To ensure our boots can withstand even the harshest winter weather, we chose calfskin leather, known for its durability, over lambskin. We also added a 2mm side welt to reinforce the pointed toe, making these boots suitable for even the toughest city streets.
We can't wait for you to try our Little Black Boot and see the difference for yourself. If you have any suggestions for future styles, don't hesitate to reach out to us at hello@ally.nyc. We hope you love our Little Black Boot as much as we do!